Air Force ROTC is a program which helps Catholic University of America students commission as Air Force or Space Force Officers within the Active Duty, Air Guard or Air Force Reserve. Students will conduct their training via the Air Force Detachment 130 through our consortium partners at Howard University. Air Force ROTC training consists of classroom instruction, morning workouts and field training on selected weekends at area military installations.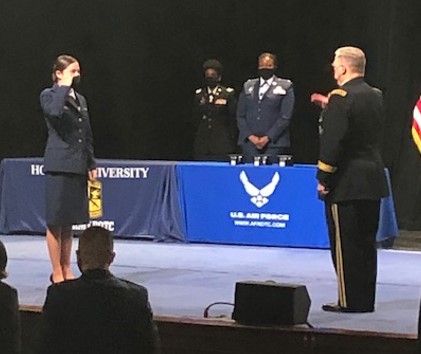 Air Force ROTC requires three years of participation. Air Force ROTC is divided into a two-year assessment period called the General Military Course. High performing Cadets will be offered a slot at summer training at Maxwell Air Force Base, AL between their second and third year of participation. Successful completion of field training will enroll the student into the Professional Officer Course which will give final preparation prior to commissioning.
 Air Force ROTC Cadets either enter Catholic University of America as a National Scholarship Winner or can successfully "walk-on" to the program. Graduate Students are eligible to participate in Air Force ROTC if their degree program is three years long. If interested in Air Force ROTC, cadets are encouraged to enroll as soon as possible during their time at Catholic University.
Students with all Academic majors are eligible to apply however STEM and Language based Majors stand the best chance of winning scholarships.  
Air Force ROTC Cadets will receive a uniform allowance, a monthly subsistence stipend and payment of full tuition and fees. Four-year Air Force ROTC scholarships will have their room and board covered by University Financial Aid.
Prospective students are encouraged to apply for National Air Force ROTC scholarships here.
CUA Students are also able to "walk on" to Air Force ROTC without winning a National Air Force Scholarship beforehand. All students interested in Air Force ROTC are encouraged to contact Mr. Stephan Murphy, the University ROTC Program Director at murphysk@cua.edu
The appearance of U.S. Department of Defense (DoD) visual information does not imply or constitute DoD endorsement.